Wild Voyager, New York City: Address, Phone Number, Wild Voyager Reviews: 5/5
Cultural Tours • Private Tours • Nature & Wildlife Tours • Photography Tours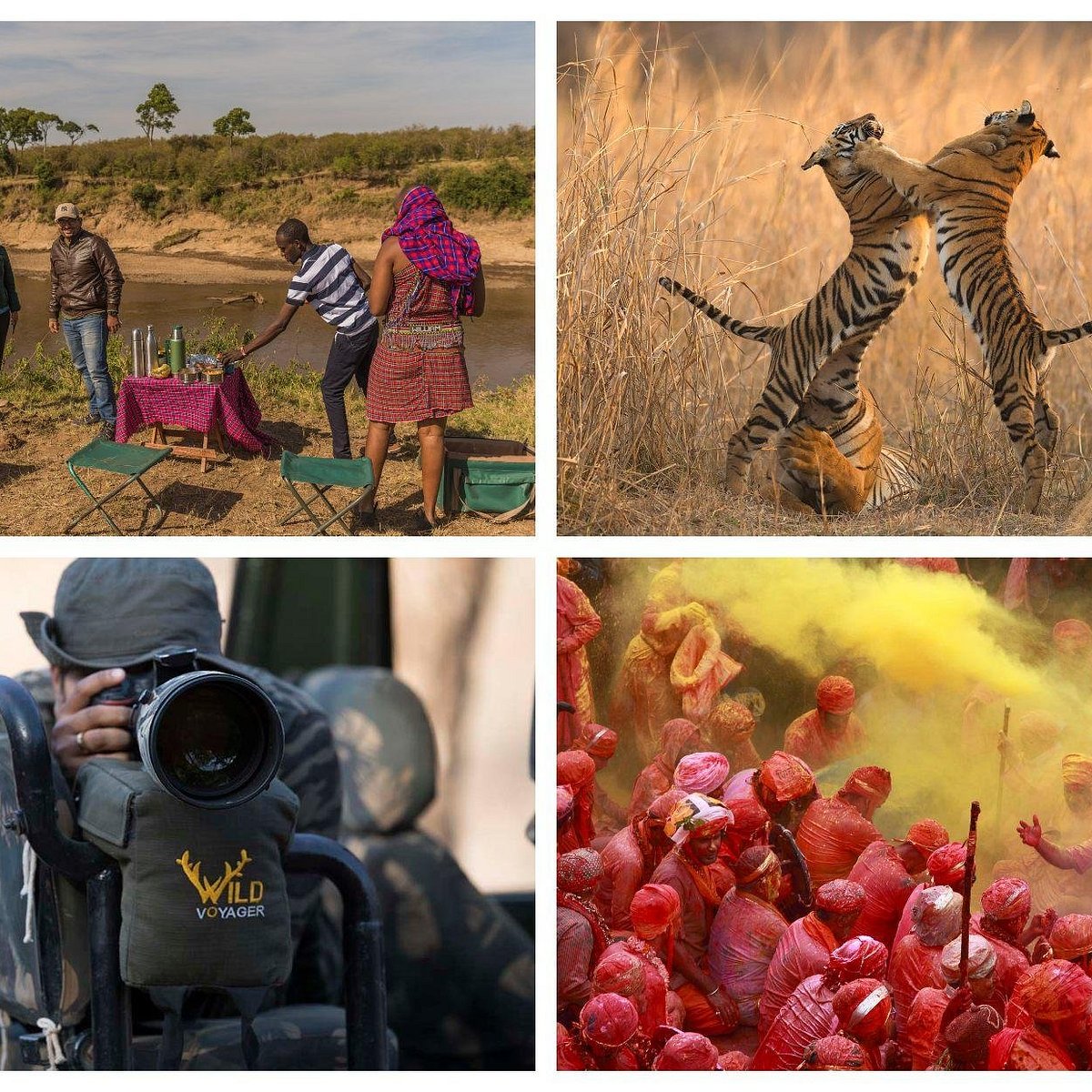 About
We curate unique experiential journeys to wilderness hotspots around the world and some unique cultural experiences around Indian subcontinent.
New York City, United States
Travellers talk about

""
(2 reviews)

""
(5 reviews)

""
(5 reviews)
---
---
Dec 2021
Olgatuni was simply awesome! It was our first time in Kenya so we took Wild Voyagers help to create an itinerary to see all the main attractions. Once the proposal came back we also requested them to reorder the dates for certain spots where we wanted to spend more time as well as go visit places that were not on the itenerary for which the WV team was extremely accommodative.
The WV team also handled visas, transport, paperwork and everything so the trip was a breeze!
The highlight was the safari that was a must bang in the middle of the Maara. WV works closely with the Olgatuni camp so they took great care of us!
Jonathan, Chef Samuel, Chef Alvin, Frederick, Guides Joseph and Frederick, each of them went above and beyond - from making custom order of breakfast for us, to chasing cheetah through the Maara for the photo opportunity.
I would recommend that you use WV's services! You can't go wrong with them!
Written 29 April 2022
This review is the subjective opinion of a Tripadvisor member and not of TripAdvisor LLC.
---
Apr 2022 • Family
It was a very professional service we got everything we wanted they got the right track the right hotels the right guides the ride drivers everything was the best we couldn't enjoy ourselves in India without the help of this company
Written 23 April 2022
This review is the subjective opinion of a Tripadvisor member and not of TripAdvisor LLC.
---
Nov 2020 • Couples
We were always told that leopards are shy human company and a notoriously difficult to sight.

"Think again" exhorted Wild voyagers as they packed us off to the leopard camp at Bera , Rajasthan - a place that actually encompasses multiple other villages apart from Bera - mainly Saini and Varaval.

They were right of course. Bera and it's surrounding villages exhibit a unique form of man-animal cohabitation leading to leopards actually staying close to the village - parting on strays, occasional live stock but NEVER injuring a human. The villagers consider lost cattle or livestock as "offerings" and are comfortable with letting the leopards stay close by to the villages.

Over time, a few of the leopards have grown more accustomed to human presence - even safari jeeps and provide for unforgettable sightings that is probably not possible anywhere else in the world - or at least in India.

The land in an around Bera is beautiful. Bald weather beaten hills from the Aravalli meld into semi-arid greens of babul, neem and berry bushes - which give way to lush green fields of mustard, castor, wheat, jowar and other crops. The fields are irrigated with the help of Jawai bandh dam on the river Jawai. The dam is a pretty place to visit during breaks between safaris.

There were three highlights of our visit:
1. The safaris - a breathtaking combination of hair raising off-roading, superb views from hill tops and thrilling bone-jarring races to spots where a leopard was sighted only a few moments ago. (Yes - they remained elusive - but the combination of terrain and their comfort with human habitat ensured that we had sightings on 2 of our 3 safaris). As a group - we were all unanimous that the safari experience in Bera itself was unique and memorable.
2. Meeting Laxmi - the leopardess on the third and final safari. It was on the day of Diwali - when goddess Lakshmi is worshipped, and the significance of the serendipitous sighting was not lost on even an atheist like me. Lakshmi was regal yet genial, and watching a leopard this close for over 15 mins is an experience that is going to stay forever in memory.
3. An evening with Pushpendra Singh Ranawat - owner of the Aravali Camp and a passionate activist in conserving the unique environment that exists in Bera. How knowledge of the leopards in the area is encyclopedic, he is well versed in leopard behavior, he descends from the line of Maha Rana Pratap and has a huge store of anecdotes covering the current generation of royalty in Marwar and Mewar region and is only 27. It was a splendid evening we spent at his camp - more so because it ended with dinner having superb Lal Maas - a Rajasthani mutton curry.

Overall - a trip that upheld Wild voyager's ethos - we came back with memories of an experience to savor - not just pictures to display in FB.

Wild voyager's team - I hope to - and will plan to - trips with you all to Africa and other places. You made our Bera trip special.
Written 21 November 2020
This review is the subjective opinion of a Tripadvisor member and not of TripAdvisor LLC.
---
Nov 2020
We asked WIld Voyager to design an itinerary that would meet the requirements of the Covid times, the requisite quality of stay and the best safaris in Bera Rajasthan.
They exceeded on all counts. From safe rooms in hotels to the best safari drivers, a magical evening at Aravalli camp with Pushpendra Singh, terrific food, superb value for our money.
They created a truly memorable experience and I do not say that lightly - we are a group of seasoned travellers and wildlife enthusiasts.
Written 19 November 2020
This review is the subjective opinion of a Tripadvisor member and not of TripAdvisor LLC.
---
Feb 2020
TL;DR

Pros:
Extreme attention to detail from putting together an itinerary to executing each hour of the journey
Professional to the core, very responsive in communication
Extremely knowledgable guides (great guides is one thing I cannot emphasize enough. It is important to understand that in Africa, only the skill of the driver/guide can get you to spot some great sights. If s/he is not enthusiastic to show your group, then all you'll see is whatever you stumble across along the way. If all you want is a couple of photos for your Instagram/FB, then you might not care all that much but if what you're looking for is a professional/Nat Geo level experience, you cannot skimp on the guide)
Camps, cars, etc. - What you ask for/see is what you get
Make you feel pampered with the service (from Indian team with calls and texts checking if all is well each day and locally with the drivers/guides)
Cons:
Can't think of much apart from being 10-15% more pricey than other options we were considering at the time

Full review:

We had been contemplating a visit to Africa for over 5 years now and the time had come and the search for the perfect itinerary and organizer. After sending out a dozen requests, one stood out with their prompt responses i.e. Wild Voyager (WV from here on). We finally put together a 10 night/11day Safari itinerary starting from Masai Mara, then to Serengeti, Ndutu, Ngorongoro, Lake Manyara and finally Amboseli (Arrive and depart from Nairobi). Right from the beginning Anuj and Shruti from WV pointed out each point on the camps, the guides, the cars and why they were above the cut and little did we know they were absolutely right.

Once our formalities were completed (Visas, vaccinations, etc.) we packed our bags and landed in Nairobi our driver (Wilfred) was there to pick up from the airport. Our flight was quite delayed and Anuj had coordinated changes to the plan as we had to be in Mara by 6PM. From the park, we transferred to a Land Cruiser driven by Kim who was our driver cum guide. Over the next 2 days, Kim showed us some of the most spectacular scenes with two groups of cheetahs (9 cheetahs) that we tracked on day 1. We saw them laze around, get almost 10ft close to our car and tracked them the entire day. On day 2, he showed us a pride of lions feeding on a large water buffalo. The scene was electric as a cackle of hyenas were trying to steal the meat with vultures circling above but there was no let-up by the pride. In the evening we were scouting and spotted the elusive leopard in the evening out on a hunt, but he gave up and disappeared amidst the bushes. We also saw a whole bunch of other wildlife (elephants, hippos, zebras, wildebeest, Grant's gazelle, Thompson's gazelle, Hartebeest and countless others). Then Kim dropped us to the Tanzania border on day 3.

Just across the border was Immanuel to accompany us in Tanzania. This was subcontracted to Donuk Safaris and we had a feeling this is going to be even better. The safari land cruiser here was brand new, had AC for when we were on roads, a fridge and charging outlets (this is rare since land cruisers used for safaris are typically a couple of decade-old models rebuilt from scratch to be tough). Immanuel was a walking-talking encyclopedia on wildlife and gave us the low down on each animal (and bird) that we saw. We saw over 25 lions with the help of Immanuel across Tanzania's parks, saw a cheetah and her cub hunt a gazelle, glimpsed and were mesmerized by the sheer scale of the great migration at Ndutu, spotted the rare black rhino at Ngorongoro, scooted when chased by elephants (which suddenly appeared out of the bushes at Manyara). Every second was beautiful and not to mention highly informative.

We then drove back to the Kenyan border where Kim picked us up again and drove to Amboseli. Here the backdrop was a sight to behold, Mt. Kilimanjaro, with mighty elephants all over the park. A photographers paradise. We then drove back to Nairobi for our stay and got dropped to the airport.

During the journey, Wild Voyager would check up on us every evening to see if things were going great over a call and they would post any info on our whatsapp group. The guides would get their own calls every day to plan for the coming day. It was perfectly organized and made us feel pampered. We loved the experience and would whole-heartedly recommend WV to everyone.
Written 4 March 2020
This review is the subjective opinion of a Tripadvisor member and not of TripAdvisor LLC.
---
Jan 2020
Wild Voyager booked hotels, took care of the transfers and were in contact with us prior and through the trip, They helped us plan each day and the game drives such that we got the most out of a day. The selection of hotels was perfect for us. We had a very memorable trip. Anuj and team you guys Rock !!
Written 13 January 2020
This review is the subjective opinion of a Tripadvisor member and not of TripAdvisor LLC.
---
Jan 2020 • Family
We had a Fantastic time in Olgatuni Camp at Masai Mara. It was such a fun and memorable trip. The warmth of the staff and the way camp gives you that jungle experience with the comfort of a hotel, makes it must visit!!!
Written 6 January 2020
This review is the subjective opinion of a Tripadvisor member and not of TripAdvisor LLC.
---
Sep 2019 • Friends
Had a great experience with Wildvoyges. Saty,Food,Safari everything was perfect. Had a hazel free trip. Got more than expected. Very humble and responsive team. If someone is planning for Africa Wildvoyges is highly recommended
Written 22 September 2019
This review is the subjective opinion of a Tripadvisor member and not of TripAdvisor LLC.
---
Jun 2019 • Family
Anuj and team at wild voyager helped organize a travel for us to Masai Mara, Kenya. It was the most seamless trip with every detail taken into account, and every luxury accommodated for. The itinerary was perfectly planned and executed - ensuring we capture every precious moment of the safari and sights - and yet keeping room for our individual preferences as well. All throughout the planning process, before, during and even after the trip - the team ensures you are always looked after and it feels like an extended family! Our holiday was completely at ease as everything was taken care of and all we had to do was soak in on all the fun! We would highly recommend Anuj and team for all your future travels! :)
Written 4 July 2019
This review is the subjective opinion of a Tripadvisor member and not of TripAdvisor LLC.
---
Jun 2019 • Couples
Wild Voyager team are a bunch of enthusiastic professionals with good domain knowledge. They bring to the table good organising skills backed by passion for wildlife tourism. Strongly recommended.
Written 1 July 2019
This review is the subjective opinion of a Tripadvisor member and not of TripAdvisor LLC.
---
Showing results 1-10 of 16