Temple of Hatshepsut at Deir el Bahari
About
A mortuary temple dedicated to the longest ruling female of Ancient Egypt, Queen Hatshepsut. The temple is decorated with statues, sphinxes, and reliefs, which have been meticulously restored over time.
Admission tickets
from ₹1,68,005.10
All you need to step foot in the door.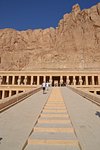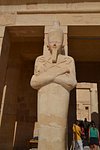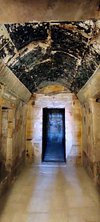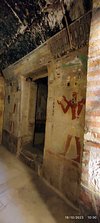 What is Travellers' Choice?
Tripadvisor gives a Travellers' Choice award to accommodations, attractions and restaurants that consistently earn great reviews from travellers and are ranked within the top 10% of properties on Tripadvisor.
See what travellers are saying
Grand in any way

It's amazing that something this old can still look so incredibly good. Queen Hatchepsut outdid herself so many years ago. Even to this day, it's a very impressive monument and a true work of art.

Written 26 January 2023

A true piece of art

Grand on the outside but there isn't much to see on the interior. Most of the structures are already been destroyed. There aren't many description boards on the premises and hiring a guide or reading up on your own before visiting will help to understand the history of this place. The general admission is 160 LE in 2023. Don't bother to buy an extra ticket to take the electric train to the Mortuary. It is an easy 10 min walk from the main entrance. Same as Valley of the Kings, go as early as possible or late afternoon. This place can get really busy and difficult to take nice shots of the surrounding.

Written 15 February 2023

Restored Temple, but Still Awesome

I won't say I was disappointed because it was still an amazing temple, but it's too bad it needed so much restoration. They must have really disliked her, because it appears they tore up everything she did. Glad they were able to get it back together, because it's still impressive.

Written 4 April 2023

Best viewed from afar!

The most impressive feature of this temple is the grand way it is set into the mountains behind to provide an amazing backdrop. Unfortunately the inside isn't as impressive as the outside.....as other TA Reviewers have said it has been mistreated and in part purposely destroyed, It was also overrun with tour groups and tourists on the day we visited, so that it was difficult to see inside. We first saw the temple from a distance back in 2006, so it was disappointing not to be able to view it properly this time either.

Written 11 April 2023

Set into the cliff......

Onto Hatshepsut's Temple ..... a woman who ruled for 20 years from 1478 to 1458 BC. Notable for the peace and prosperity in her reign, she came to power when her step-son was too young to rule. Dressed as a man ... apparently not as a disguise - but so she would be given due respect. The temple pays homage to the god Horus, the falcon-headed deity, and to be used as Hatshepsut's resting place after her death. Not as OTP as some of the other temples .... maybe that reflects that Hatshepsut was more humble ?

Written 14 April 2023

One of the most popular attractions of the west river bank

Our group visited this site by bus and we saw it from a distance. It's fantastic, the location is amazing with a limestone wall in the background. We climbed up the stairs and visited the three terraces with columns. It was very hot, we needed hats and sunglasses. You should wear comfty shoes, too.

Written 26 April 2023

A masterpiece.

A stunning beauty from a distance, this was the place I visited after spending a few hours at Valley of Kings. Aesthetically designed with a backdrop of cliffs in the desert plain, this extraordinary monument was built during the reign of legendary Empress Pharaoh of Hatshepsut. Amazing architecture, long corridors, giant size statues, meticulously erected pillars, this is a masterpiece from the ancient world. Three terraces in front, with a portico, temple path, each at an elevated angle, this temple reflects the rich heritage of ancient Egyptian civilization. There is an admission ticket. It's better to wear a cap and carry a bottle of water. Not to be missed.

Written 13 May 2023

My visit to the Temple of Hatshepsut

Temple of Hatshepsut is a beautiful picturesque location. Exterior look is amazing. Keep in mind that from where the cart drops you off you have to walk considerable amount of distance to get into the temple. If you are going around noon time, it is hot and you can easily become dehydrated. Make sure to have plenty of cold water. once you get into the temple there is actually not a lot to see. Some people can become disappointed by it. This temple is also for history loving individual. Quick mention that she is the only female ruler who was buried in the valley of the kings

Written 19 June 2023

A masterpiece of ancient architecture

The Temple of Hatshepsut is, of all, my favorite. I would have traveled to Egypt just for it, but of course I'm glad I saw other interesting places. It is rightly considered a masterpiece of ancient architecture, and in my humble opinion, as it looks, it can stand with honor in any big city of nowadays. The temple rises from the desert sand and rests on the rocks of Deir el-Bahari. The temple is not positioned by chance, everything here has a special symbolism that you can find out if you have a good guide. The temple was built between the seventh and twentieth years of the reign of the female pharaoh. The temple has three huge terraces, several rows of porticos, altars dedicated to the gods Amun-Ra, Hathor and Anubis, the court for the cult of the Sun, the courtyard dedicated to the annual festival and, finally, the mortuary complex dedicated to the pharaoh. The temple is adorned with many reliefs referring to the achievements of the pharaoh. It is a pity that the short time and the scorching sun did not give me the opportunity to climb all the terraces, to walk under all the porticos, to enter the most important rooms.

Written 18 August 2023

One of the most beautiful places on earth

What a truly awe inspiring temple. The fact that it was built into the rock 3500 years ago is hard to fathom. You get a lot of very interesting information when you have a guide . It blends so beautifully with the surroundings, and you can imagine how magnificent it was in its original day with all the bright colors intact. Egypt's only female pharaoh made sure this temple was monumental

Written 3 September 2023
These reviews are the subjective opinion of Tripadvisor members and not of TripAdvisor LLC. Tripadvisor performs checks on reviews.
Detailed Reviews: Reviews order informed by descriptiveness of user-identified themes such as cleanliness, atmosphere, general tips and location information.
---
---
Is this your Tripadvisor listing?
Own or manage this property? Claim your listing for free to respond to reviews, update your profile and much more.
Claim your listing
Temple of Hatshepsut at Deir el Bahari, Luxor - Tripadvisor
Frequently Asked Questions about Temple of Hatshepsut at Deir el Bahari
---
Temple of Hatshepsut at Deir el Bahari admission prices can vary. Entrance tickets currently cost ₹ 1,66,722.24, while a popular guided tour starts around ₹ 916.97 per person.

---

---

---