About
This majestic Cathedral dates back to the 15th century and claims to be the third largest building of its kind in the world.
Tours & experiences
Explore different ways to experience this place.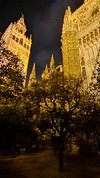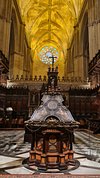 What is Travellers' Choice Best of the Best?
This award is our highest recognition and is presented annually to those businesses that are the Best of the Best on Tripadvisor, those that earn excellent reviews from travellers and are ranked in the top 1% of properties worldwide.
See what travellers are saying
Must see

This is one of the most impressive cathedrals in the world. There are arguments about it being the biggest but suffice to say its huge. the intriguing details of the sculptures is mind blowing considering they had no machines then. We were lucky and stumbled into a wedding and actually got mingled in the the wedding party. Fun

Written 8 December 2022

We were underwhelmed sorry

Okay, I don't want to upset people but I didn't grasp what was "special about it". Did I miss any remaining signs of a mosque? Yes it's big but there are lot more grandeur churches and cathedrals. Secondly everyone visits it at some point so you compete with multiple guided tour groups and so it's always noisy. If you choose to walk up the tower you will definitely appreciate the crowds. The only factor that we did like was, that it is still used for daily worship. Finally do not go a rainy day, absolutely everyone will be here.

Written 15 December 2022

Largest Gothic Structure in the World

Allow plenty of time to see the treasures of this magnificent structure. I skipped the climb up the former minaret now the bell tower, but the rest of my party reported a beautiful view of the grand city. Don't miss the truly impressive gift shop.

Written 30 December 2022

Do the roof tour!

Beautiful cathedral! I highly recommend stopping by during your visit in Seville. To get the best of the cathedral, book the guided tour of the roofs for spectacular views and an interesting history on the building. Reserve tickets in advance! We tried to buy tickets three days before our visit to Seville, and they had already sold out during our stay for the English tour option. We ended up signing up for the Spanish tour, hoping to enjoy the views anyway. On the day of our tour, it was sprinkling, so they ended up having spots left for the English tour and were kind enough to let us join. I wouldn't count on this for your visit though, book ahead! In order to see the inside (featuring Christopher Columbus's tomb and other cool features), you can either pay a separate ticket for the inside or attend mass for free. The option we did was to attend the mass first at the available times during the day (we like seeing how different religions hold services, and so we would have done this anyway- just make sure not to partake in communion unless you are Catholic!). During the service, you get to gaze at the beautiful interior from the pews while hearing how sound carries throughout the cathedral. After mass ends, you are allowed to walk the interior on your way out and see the beautiful church (we also left a small donation since we had walked in free for the mass). I believe there are also separate tickets for a courtyard and bell tower, but if you do the rooftop guided tour, you have already seen these to a good extent. The cathedral is also a good central point in the city to mark out the rest of your travel activities here. It is right next door to the Alcázar, close to the gardens and Maria Luisa Park, and surrounded by cafes and tapas bars that serve great food despite being in a tourist area. As you walk by the cathedral on the outside, see the different layers of the bell tower. The bottom is old Roman ruins, followed by Moorish brick, and finally topped by Christian features. I love the way it has been preserved and incorporated into each new ruling era.

Written 3 January 2023

3rd largest Cathedral in the world.

Any trip to Seville should include a visit to the Cathedral and adjoining Giralda tower. It is cheaper to book tickets on line rather than at the door, so bear this in mind. The tower is 342 ft tall and visitors get great views over the city and the of the cathedrals bells. The tower is also unique as it has no steps and is a series of ramps will take you to the top. I personally found this easier to walk up, but it was constructed this way initially , so heads of state could ride horses to the top rather than walk. The cathedral itself is massive and a delight to the eye, full of eye boggling areas of gold, silver, and fantastic stained glass windows. Don't forget to also visit the majestic tomb of Christopher Columbus. My wife loved it so much we had to go back again at night to take photos of the cathedral, all lit up.

Written 16 January 2023

Worth time but take a tour

Did a tour through getyourguide and enjoyed it very much. Huge beautiful church and walk up Giralda tower was beautiful our two sons 2 & 4 were able to easily do the walk up and the view was worth it. A your gave us great insight in to all the details and history inside the cathedral.

Written 20 January 2023

Best time to visit during low season

We had a 3 days stay in Sevilla and what to see in such an magnificent city isnt easy but during lowseason we descided that the Cathedral was one of them and we dont regret it at all! The Cathedral and Giralda is one package, easy to buy from their website and choose date/time you wish to visit. You can choose the languages spanish/ france/ italian and english. When you buy the ticket from the website you get a QR code that is scanable by the staff. You also get a time when you can visit "La Giralda". La Giralda is the reason to why the Sevilla Cathedral is best to visit during lowseason. It is a high bell tower that you walk all the way up to. No stairs, just hills (35 of them). There are windows on your way up but it is a thin line and during high season with warmer weather and lots of people it can be very hard but its definitly worth walking up to! The view is absolutly spectacular! If you wish to see the roofs constructure of the cathedral I recommend you to choose one of the windows to the right, when you come up. During lowseason you only need to wait a short time before you can look out the windows. When it comes to the cathedral it self, take your time and walk around. This cathedral is after all the world's largest Gothic church? And the 3rd biggest church after St. Peter's Basilica (Vatican State) and Nossa Senhora Aparecida in Brazil so there is plenty to see. It is said that Christopher Columbus rests in Seville's Cathedral, but since there are too many question marks about this, whether it is his remains or someone close to him, a project has been started at Spain's University of Granada, to investigate Columbus's DNA. So today it is not known with 100% certainty that Columbus rests in Seville's Cathedral but at the time you visit maybe they have found out the truth.

Written 20 January 2023

Mind blowing

it's worth having a guided tour, as otherwise you will only scratch the surface of what is an enormous space. We were part of a 6 person group and had a very knowledgeable guide from Pancho Tours whose enthusiasm was evident. We learned masses of facts that were often asides to what he was describing and he totally carried us along with him as he recounted the history of the cathedral. Our visit would not have been nearly as interesting and enjoyable or worthwhile had we been wandering about on our own.

Written 30 January 2023

UNESCO World Heritage Site

UNESCO World Heritage Site, largest Gothic temple in the world, and the 3rd largest Christian temple (after St. Peter's of the Vatican and St. Paul's of London). Christopher Columbus is buried here. Amazing architecture and art here. The highlight was actually Giralda, the bell tower, which I'll review separately. We bought the tickets in-person for 12€ ... you can buy on-line for 11€ but when you go to the site, it says it's hacked?? You can pay 21€ for a guided tour, and 5€ for an audio guide. TIP - One of my friends said they attended Mass, so they got in free :)

Written 4 February 2023

Catholic Cathedral turns blind eye to many corruptions BUT wide awake when money is concerned.

We found the attendants totally disinterested. We have better experiences in other cathedrals. I purchased 2 tickets with the EU rate for 65+. My friend is 64. They insisted I pay the difference. Extra 6 euros but I could not cancel the audio and get credit for it. Bad service people. Bad attitude to Seniors. Seniors beware of this Cathedral. The Real Alcazar was a better customer experience by far. Respect for Seniors.

Written 8 February 2023
These reviews are the subjective opinion of Tripadvisor members and not of TripAdvisor LLC. Tripadvisor performs checks on reviews.
Detailed Reviews: Reviews order informed by descriptiveness of user-identified themes such as cleanliness, atmosphere, general tips and location information.
---
---
Is this your Tripadvisor listing?
Own or manage this property? Claim your listing for free to respond to reviews, update your profile and much more.
Claim your listing
Catedral de Sevilla, Seville - Tripadvisor
Frequently Asked Questions about Catedral de Sevilla
---
---

---

---