What are the national dishes of England and where to try them?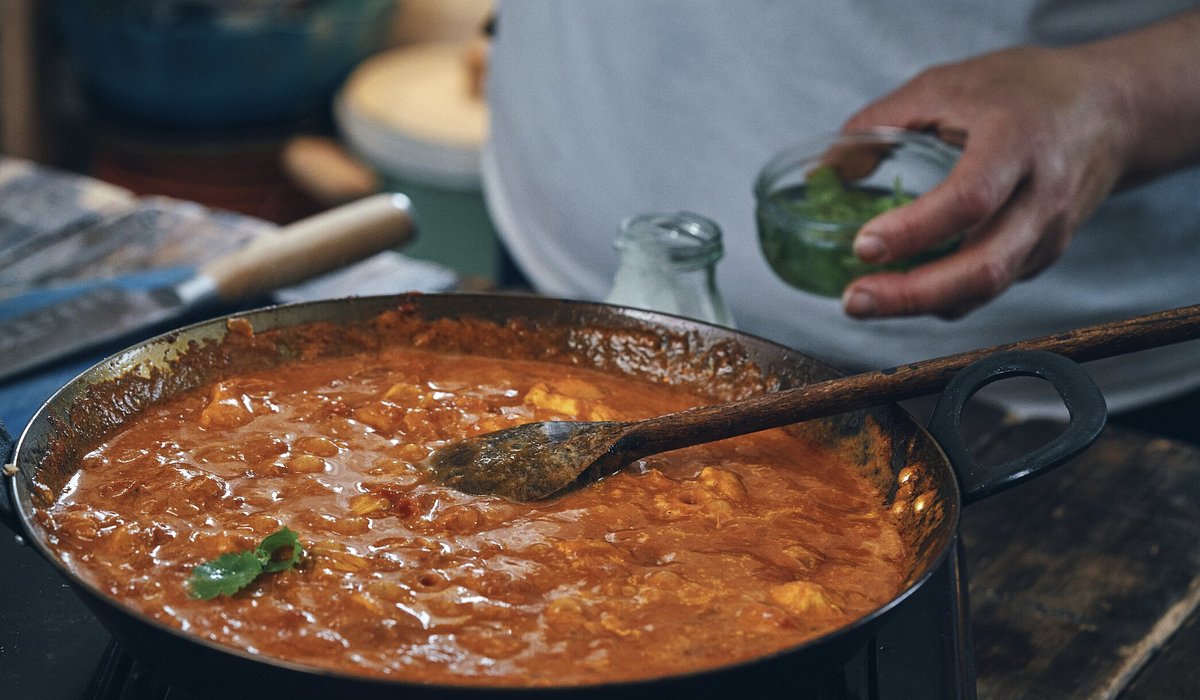 By Jerome Lee

23 Nov 2022 • 3 minutes read
A national dish is best described as a culinary creation representing that country—think: pad thai for Thailand, jerk chicken for Jamaica, or even beef noodle soup for Taiwan. In England, however, where its cuisine has been influenced by a melting pot of different cultures, there are many contenders for the country's national dish.
Here are five foods that contend for England's national dish, why they're beloved by the British, and where you can try them on your next trip.
1. Chicken tikka masala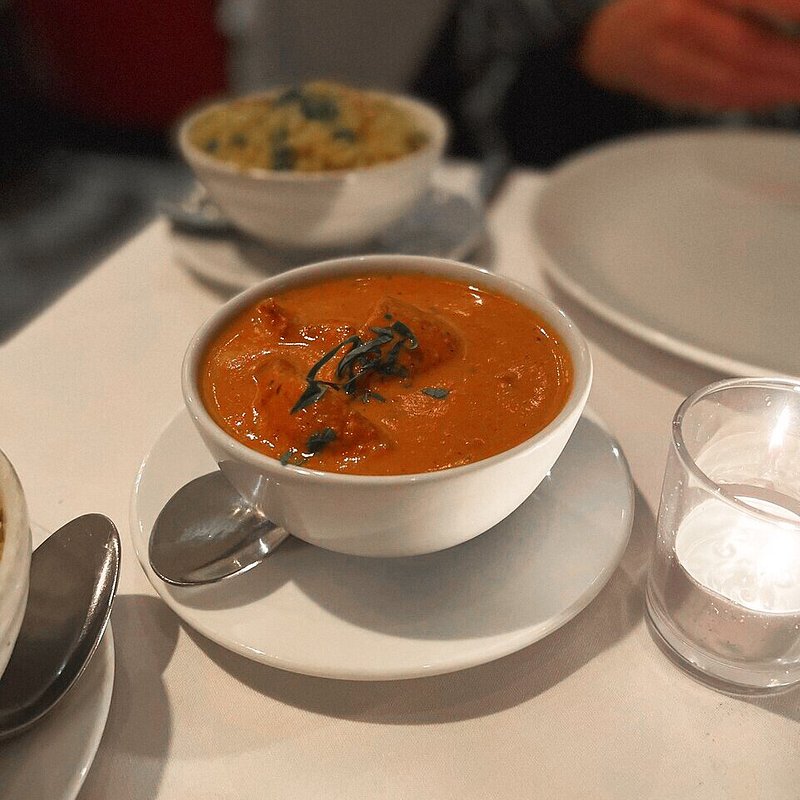 Chicken tikka is a dish popular in Pakistan, Bangladesh, and India, and the word 'tikka' comes from Persian, meaning 'bits' or 'pieces'. Legend has it that at a Glaswegian restaurant in the 70s, a customer was served a chicken tikka that was too dry. The chef took it back to his kitchen and improvised with canned tomato soup and a concoction of spices, which gave birth to the chicken tikka masala that the British know and love today.
A good chicken tikka masala has a creamy, flavorful sauce, with tender bits of chicken infused with Indian spices like cumin, coriander, and turmeric, and served with either rice or naan (Indian flatbread). Have a taste of this iconic dish at the oldest North Indian Restaurant in the U.K., Punjab Restaurant in Covent Garden, which has been serving up their version of chicken tikka masala since 1973. Thali Restaurant in London's Earl's Court is also worth a try—admire the vintage Bollywood posters on its walls while digging into its chicken tikka masala that's big on flavor and freshness.
2. Yorkshire pudding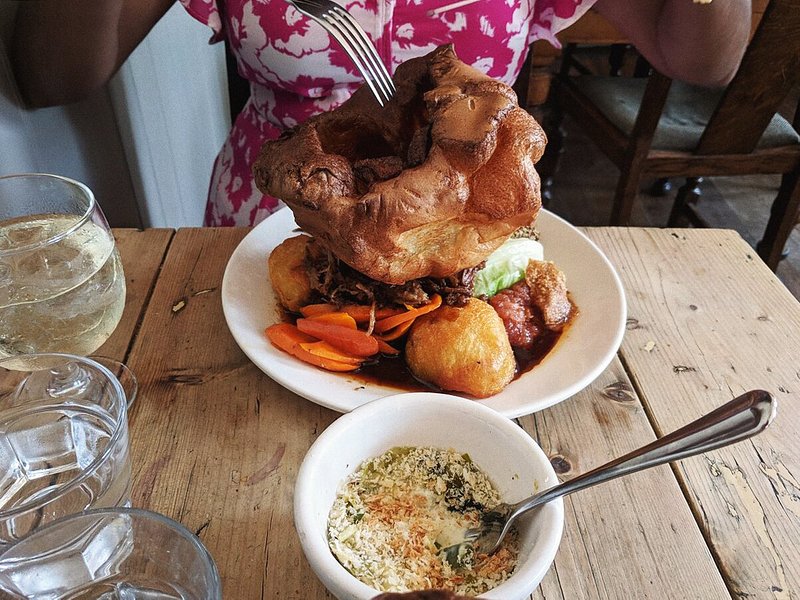 While pudding is typically synonymous with custard-like desserts, a Yorkshire pudding is a savory baked dish made using flour, milk, eggs, and water, served either with gravy or meat. An essential side dish to a Sunday lunch, a good Yorkshire pudding is puffy, tall, and crisp on the outside and soft and spongy on the inside; its height is a result of using searing hot fat at the bottom of the cooking dish.
The pudding was first recorded in the book The Whole Duty of a Woman in 1737 and was listed as "A Dripping Pudding"—referring to the fat coming from spit roast meat. It later appeared in Hannah Glasse's book, The Art of Cookery Made Plain and Easy, distinguishing this light and crispy pudding from other variations across the country. For some of the best Yorkshire pudding, The Pig and Butcher in London impresses with their generously-sized puddings, while the Imperial Arms in Chislehurst does a vegan variety that's a cult favorite.
3. Bangers and mash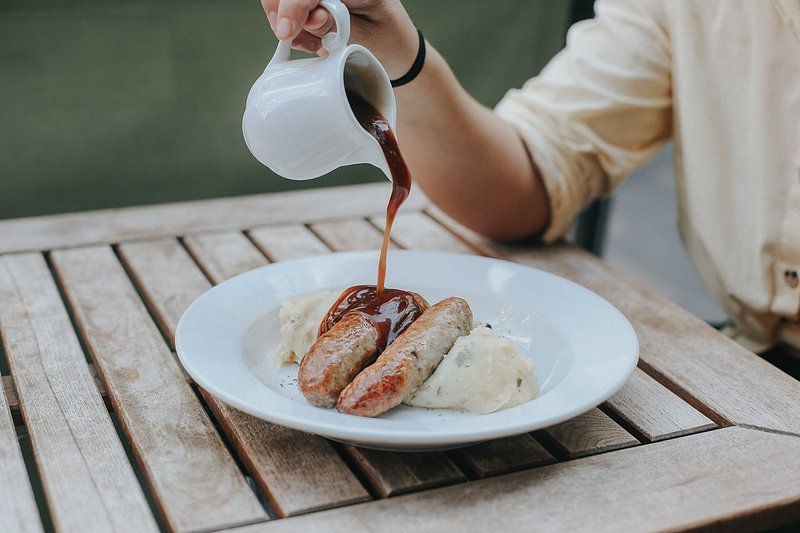 Made up of plump sausages (bangers) and mashed potatoes (mash) drizzled in a flavorful onion gravy, bangers and mash are a British staple. It's said that the term 'banger' originated during World War I, when sausages were made mainly with water due to meat shortages, causing them to explode while cooking. Traditionally, pork sausage is used—specifically the Cumberland variety that's prepared with pepper, salt, sage, thyme, nutmeg, mace, and cayenne—though beef and lamb are often used too.
While you can find this dish at most English pubs, there are a number of standouts. Mother Mash in London does a cheesy mustard version of their mash, and Travelers' Choice award-winning Makars Gourmet Mash Bar in Edinburgh, sees long lines for its scrumptious bangers and mash.
4. Roast beef
The love of beef is very much part of the British identity, so much so that since the 1400s, royal guards were known as "Beefeaters" as they were allowed to indulge in beef right from King Henry VII's table. Today, roast beef is part of a typical Sunday lunch with family and friends and is usually served with roasted potatoes, vegetables, and of course, the Yorkshire pudding. Any leftover beef is often used in sandwiches or in hash.
5. Fish and chips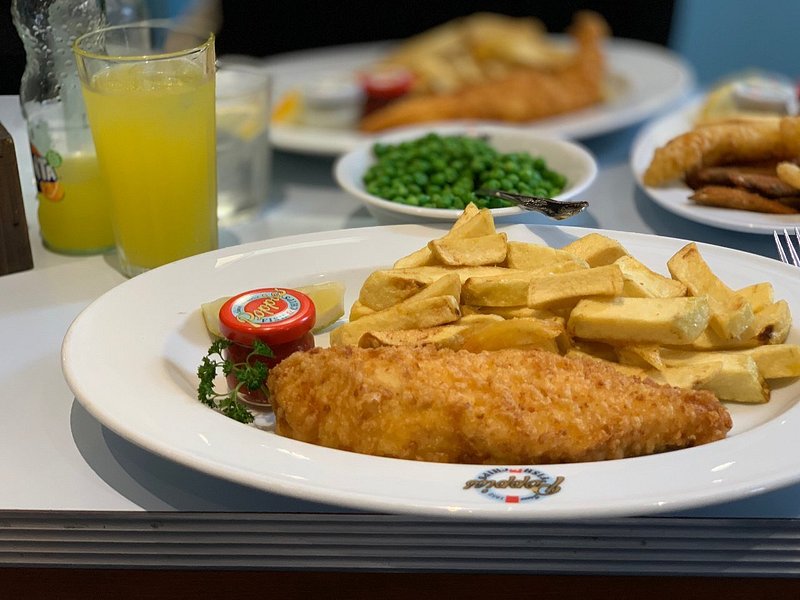 It's hard to talk about British cuisine without mentioning fish and chips, a cod fish deep fried in a light crispy batter sitting atop a small mound of chips and served with salt and malt vinegar. It dates back to the Industrial Revolution—chips were a common, inexpensive food in England's north, while fish fried made its first appearance in London's East End (which you can explore on this food tour). In North England, the first fish and chips shop is said to have been opened by John Lees, peddling the dish from a wooden hut in the market.
Over 382 million baskets of fish and chips are sold in England every year, so you're bound to find a fish and chips store at any corner. For elevated renditions of this British classic, Aldeburgh Fish and Chips in Britain's Suffolk county on the east coast still maintains a traditional approach of using beef drippings for frying, even after 50 years of operation.